The to-do list
In 2015 I decided to start DOING STUFF I've always wanted to do, but never got around to – here's how the TO-DO LIST is shaping up:
How I found the Burning Man on my doorstep
When my lovely niece, the talented actress Aoife Nic Ardghail, told me about going to the Burning Man festival in the Nevada desert it went straight onto my to-do list. Sadly the tickets sold out in nano-seconds, but Jeff Rose, a friend of my SVR ranchero pal Marilyn who helps out at Burning Man every year, told me about one in Ireland! So I went to the TEMPLE event in the historic walled city of Derry instead – much easier and handier altogether!
People wrote WISHES, THOUGHTS OR FEARS on the temple and it was burned as a healing experience. It was a very moving experience, and I'll never forget it.
Warning: This was a highly organised and supervised event… do NOT try setting things alight at home, OK?!
---
I got on TV at the World Darts!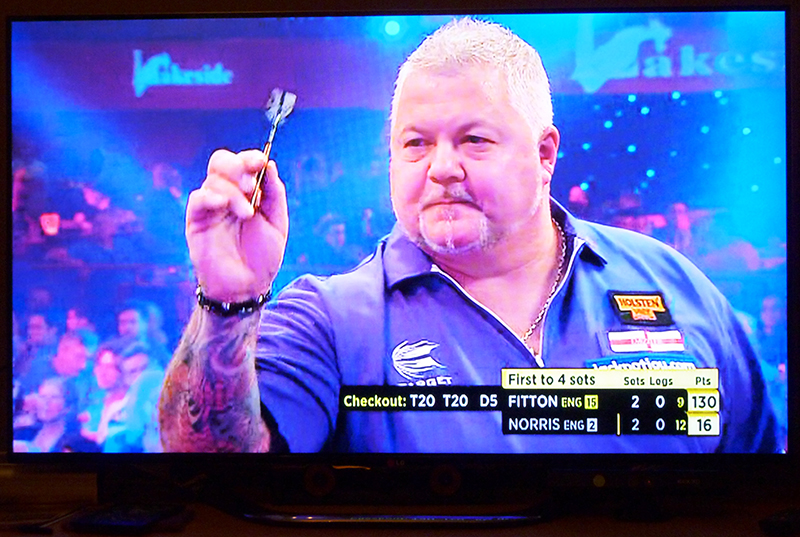 Every January as I watched the World Darts in Frimley Green on TV I always wished to be there, too! And so I did it…
Such a funny and friendly bunch of people! Lots of them wore FANCY DRESS and we all cheered and WAVED banners when anyone scored a 180.
I got to meet a unique former champ called Bobby George up in the commentary box and he signed my match brochure.
I realise that darts are not for everyone but I had GREAT FUN.
Yes, it's fuzzy – but I promise this is me in the bottom corner of the TV set as Darryl 'The Dazzler' Fitton prepares to throw!
---
Next on my hit list
I adore the TV quiz Pointless and want to meet Richard Osman off it. The show was recorded in March 2016 north of London but I was too busy getting my book published to apply for audience tickets. I managed to go in a couple of months later, though, for my birthday. I'll write all about the experience just as soon as I can…
---
A brilliant quote for life
'Be yourself; everyone else is already taken.'
If you don't know who said this, check out my book The Red-Letter Day because this writer is well and truly in it!